RERUM "Reliable, durable and secure Internet of Things"
---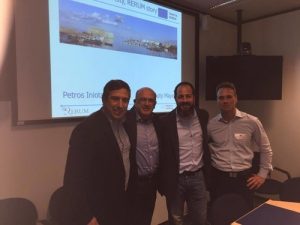 The Municipality of Heraklion in collaboration with I.T.E. of Heraklion (Institute of Technology and Research – Institute of Informatics) implemented the European Program RERUM "Reliable, durable and secure Internet of Things for smart city applications" (REliable, Resilient and secUre loT for sMart city applications -RERUM) within the 7th Framework Program for Research, technological Development and Demonstration» from 01-09-2013 to 31-08-2016.
The partners who participated in this program are:
Eurescom Gmbh (Germany) which will also be the coordinating partner
ATOS (Spain)
Siemens (Germany)
University of Bristol (UK)
University of Linköping (Sweden)
University of Passau (Germany)
Zolertia (Spain)
ITE (Greece)
CYTA (Greece)
Municipality of Tarragona (Spain)
Municipality of Heraklion (Greece)
The Internet of Things (IoT) aims to connect a huge number of "smart devices", which will communicate with each other, exchanging data and information via the Internet.
However, the networking of all these devices and their use in the daily lives of citizens entails a multitude of risks to security and privacy. The RERUM project aims to increase the security and reliability of the Internet of Things (IoT), with an emphasis on "smart city" applications.
One of the goals of RERUM is the implementation of four applications in the city of Heraklion, with the cooperation between the Municipality of Heraklion, Cyta Hellas and the Institute of Informatics of ITE, in two phases.
In first phase, was developed a traffic measurement system in the city of Heraklion and a system for measuring the energy consumption of indoor devices. In the second phase, applications were implemented for measuring environmental quality and harmful particles indoors and outdoors.
In addition, 25 sensors for measuring energy and monitoring environmental conditions were installed indoors in municipal buildings, as well as 20 sensors for measuring gaseous pollutants outside the urban environment. The aim was to detect energy-intensive devices and design environmental interventions that in combination with automation systems and Energy from Renewable Sources, can be used to reduce energy consumption.
These actions are part of the policy of the Municipality of Heraklion for the utilization of the Internet of Things (IoT) which aims to interconnect a huge number of "smart devices", which will communicate with each other, exchanging securely, data and information via the Internet. Then, the data will be analyzed and made available in an "open" way to the citizens as well as to anyone who would like to use it to create smart applications.
More information: http://www.ict-rerum.eu