Lines with new material at the junctions of the city of Heraklion
---
In the delineation of the junctions of the city proceeded the last month the Department of Road Construction of the Directorate of Technical Works of the Municipality of Heraklion. The delineation works started on the Mobility Week and were completed in the first days of October, changing the appearance of the main road junctions of the city of Heraklion and facilitating the daily life of drivers and pedestrians. The new delineations were made with cold plastic material in the areas: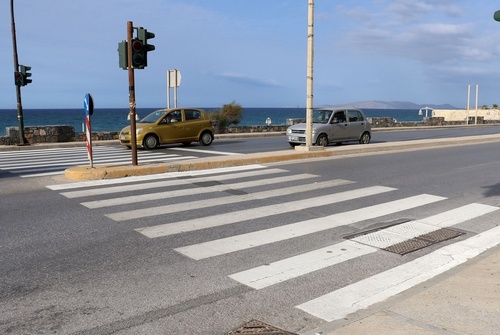 1.Ethn. Antistaseos – Knossos Avenue
2.Dimokratias Avenue – Knossos – Sbokou Avenue
3.Dimokratias Avenue – G. Papandreou
4.Dimokratias – Charilaou Trikoupi Avenue
5.Dimokratias – Geronymaki
6.Geronymaki School (24th)
7.Cyprus Square
8.Oasis Junction – G. Georgiadi – Andr. Papandreou
9.Papandreou – Chrysostomou
10.Papandreou – Knossou Avenue
11.Papandreou – Ionias Avenue
12.Dimokratias – Kapodistriou Avenue
13.Eleftherias Square – Anemogianni
14.Kalokairinou Avenue (Anogia Primary School)
15.Paraliaki-Minoos
16.Paraliaki – Arch. Makariou
17.Paraliaki – Dambergidon
18.Paraliaki -Museum of Natural History
19.Paraliaki -Gate Dermata
20.Paraliaki-Giamalaki (Stop Lines only)
21.Paraliaki – Historical Museum
22.Ethn. Antistaseos- Icarus Avenue
23.Ethn. Antistaseos- Geronymaki
24.Ethn. Antistaseos- Itanos
25.Ikarou-Herodotou and Artemisias
26.Ikarou-Vitsi
27.Ikarou-Florinis Avenue
28.Ikarou-Chimaras
29.Ikarou-Nireos Avenue
30.Ikarou-Kazantzidis
31.62 Martyron-Machis Crete-Therissos
32.Minoos-Machis Crete
33.Minoos-62 Martiron Avenue
34.Paraliaki, Dermata Bay
They will follow markings and at other junctions of the city of Heraklion, always aiming at road safety.