"Best City Awards 2018": Gold Award for the digital internet platform of things
06 Dec, 2018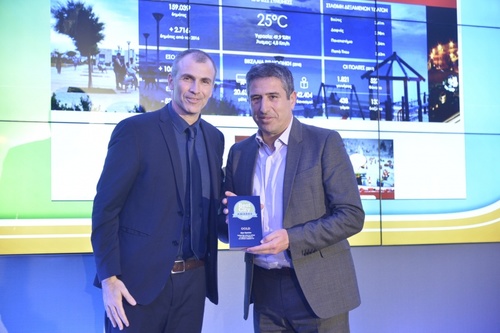 The Golden Award of the "Best City Awards 2018", the best cities in the country that have new technologies and other innovations was won by the Municipality of Heraklion.
The award ceremony took place on Thursday, November 29 at the Seraphio of the Municipality of Athens, while the award was received by the Deputy Mayor of e-Government, Mr. Petros Iniotakis, representing the Municipality.
The "Best City Awards 2018" is organized for the 3rd consecutive year by Boussias Communications, under the auspices of Central Union of Greek Municipalities (CUGM) and the Municipality of Heraklion was distinguished in the Data centers infrastructure for data collection and storage by sensors of IoT applications.
The award ceremony was attended by Mayors from all over the country, local government officials, Regional executives, high-ranking business executives, consultants and journalists, who met the winners and were informed about the best practices, innovative actions and applied technologies, which ensure a clean environment, health, safety, culture, job opportunities, economic development and ultimately a better quality of life for their citizens.
Seventy-two Municipalities, the South Aegean Region, the Region of Thessaly, and ten companies (with technologies for smart and sustainable cities) received their Gold, Silver or Bronze award, depending on the score that emerged from the evaluation of an independent Jury with Mr. George Patoulis as chairman (President of Central Union of Greek Municipalities (CUGM) and Mayor of Maroussi).