First prize in Heraklion for the Sustainable Urban Mobility actions
10 Apr, 2019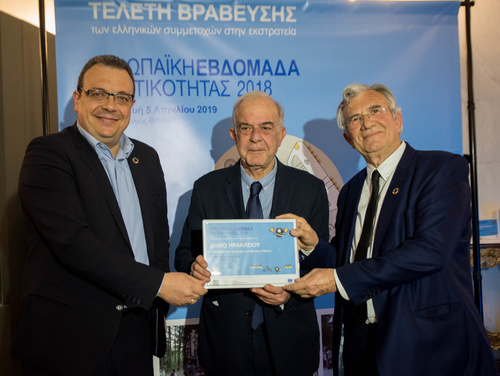 The first award for its innovative actions in the field of Sustainable Urban Mobility was won by the Municipality of Heraklion.
Specifically, at the award ceremony for the Greek participations in the European Mobility Week 2018, which took place on Friday, April 5, 2019 at the Palace of the Old Parliament, In the presence of the political leadership of the Ministry of Environment and Energy, the Municipality of Heraklion took first place among the major cities of the country.
The award was received by the Mayor of Heraklion Vassilis Lambrinos from the Deputy Minister of Environment & Energy George Dimaras and the Deputy Minister of Environment and Energy Socrates Famellos.
As the Mayor stated in this regard: "The fact that we took first place in the category of major Greek cities, for our participation in the important European institution for the environment, the European Mobility Week, fills us with satisfaction.
The award is a seal of the continuous effort of the Municipal Authority to create perspectives and offer solutions, having sustainable mobility as a key pillar of our planning for the improvement of the infrastructure of the Municipality, for the promotion of modern ways of movement as well as for the gradual detachment of the citizens from the cars.
I want to congratulate those who contributed to this distinction and assure the citizens that we will continue in the same direction, until Heraklion becomes a city friendly and accessible to all, with a clean environment, security, culture, economic development and better quality of life. It does not happen overnight, but we have the plan, the perseverance and the patience to succeed ".
The event was organized by the Ministry of Environment and Energy and the Green Fund in collaboration with the Hellenic Society for Local Development and Local Government.
It is worth noting that in the campaign "European Mobility Week" participated 62 Greek cities, which had the opportunity to showcase their actions and achievements for sustainable mobility, while at the same time their important work was captured this year in a special Anniversary Album.
The European Mobility Week since 2002 has been established as the most important institution at European level for the promotion of sustainable mobility standards and consequently for the formation and development of environmental ethics, but also for the promotion of Sustainable Urban Development. It takes place from 16 to 22 September each year, giving towns and cities an opportunity to try sustainable alternative modes of transport.
2018 was the most successful event of the European Mobility Week to date, with the participation of more than 2,800 towns and cities.