Distinction for the website www.visitheraklion.eu in the Web Awards 2018
23 Nov, 2018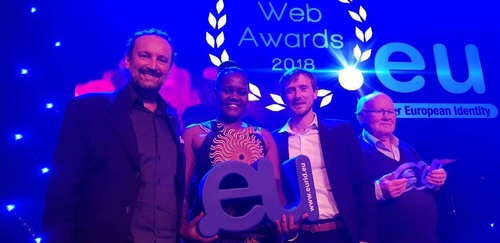 After the rise of Heraklion as the fastest growing European tourist destination for 2017, another important recognition comes to reward the tourism promotion strategy of the Municipality.
During the ".eu Web Awards 2018" award ceremony held in Brussels, on Wednesday 21 November 2018, the website of the Municipality of Heraklion https://www.visitheraklion.eu/, was selected from among 10,000 nominations from across the European Union, as one of the four best in the "House of .eu" category. The winner of the category was the website socialurope.eu (digital pan-European newspaper published in Germany) but it is worth noting that the website of the Municipality, which is dedicated to tourism, took first place among the websites of stakeholders.
As characteristically stated from the competion president of the jury Emily Taylor: "visitheraklion.eu is a complete platform, designed to offer the visitor an unforgettable experience of the city of Heraklion".
The award for the Municipality of Heraklion was received by the Authorized Tourism Consultant Gian Andrea Garancini.