Another award of the Municipality of Heraklion for its policy in the field of "Smart Cities"
03 Jul, 2019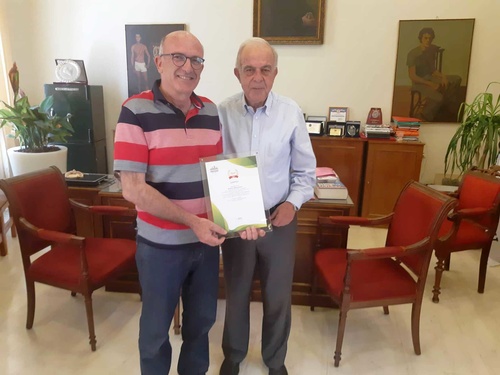 Another award for its policy in the field of "Smart Cities" was won by the Municipality of Heraklion, at the two-day 4th Conference "Sm@rt Cities – Digit@l Citizens" held on 25 and 26 June 2019 in Athens. The award concerns the integrated approach to the strategy of operation of digital structures and services "Smart City" in the implementation of projects in the fields of energy consumption, environmental upgrading, sustainable urban mobility, increasing citizen participation and improving the quality of life.
The award was received by Mr. Costas Mohianakis, Head of Informatics in the Municipality of Heraklion.
Apart from the Municipality of Heraklion, the Regions of Attica and Crete and the Municipalities of Cholargos-Papagou and Chalkidea were awarded.
The Conference was held under the auspices of the Ministry of Rural Development and Food, the Ministry of Environment and Energy, the Ministry of Infrastructure and Transport, of the General Secretariat of Telecommunications and Posts of the Ministry of Digital Policy, Telecommunications and Information and of the National Committee of Telecommunications and Posts and the support of institutional and professional Bodies such as the Association of Information Technology & Communications Companies of Greece, the Organization of Open Technologies, the Hellenic Network of IT Professionals and the Hellenic Network of Small Islands.